The Wedding Singer
Knock your guests' socks off with a killer first dance
One of the highlights of your Wedding Reception will be your First Dance as newlyweds. There are many ways to make this a memorable moment that will blow your guests away on the night, and look amazing when captured in photos or video.


SONG CHOICE: DO IT WITH FEELING
It's a romantic moment, but that doesn't mean you have to pick a classically romantic song. Choose something that has a special meaning to you, whether it's a song with lyrics that resonate to your love story, the music that was playing on your first date, or something that defines you as a couple or that you can both relate to. I have seen couples dance to all sorts of weird and wonderful songs... from Metallica to the Mario Brothers theme music! If the song has a special meaning, you will feel more comfortable and enjoy the moment rather than worry about what your guests think. And the best part is that when you are in the moment, your guests are feeling it too!


THE MOVES
You could go all 'Dancing With The Stars' and get yourselves some lessons (tip: keep this on a need-to-know basis and you will maximise the impact with the element of surprise... unless you want your parents or bridal party involved in the dance, don't even let them in on it)
Alternatively you can actually involve your bridal party for extra WOW factor.
We can recommend some fantastic dance instructors in Melbourne to help you choreograph an amazing First Dance! Talk to us about this when you book. Even if you don't have a lot of confidence in your ability to dance, there are ways to make this a memorable moment that your guests will never forget:
FAKE IT TILL YOU MAKE IT


Even if you are not the most confident dancers, your guests' eyes are all on you, and how loved up you are. So all you really need to do is hold each other close and sway, look into each other's eyes and share a romantic kiss. Bring on the tissues!
If you are really uncomfortable with all the attention but still want those killer photos, just keep it short and sweet by having your MC invite the bridal party and/or guests to join you halfway through the song.
















You can and also spice things up visually at one or more points in the dance with these brief and simple, but super-effective moves: 








RING-A-ROSIE
Hold hands and spin like you did when you were a child! So simple that anyone can do it... We guarantee this will be met with cheers and multiple 'whoo hoo's by your guests
THE GOOD OLD DIP'N'KISS
A very effective move that works well halfway through your dance or as a way to finish off your 'routine'. Even if the dance itself is a little lacking in fancy footwork, this simple and fun little move is sure to be met with cheers from your guests. Plus it looks spectacular in photos and let's face it, it's a lot of fun to practice at home!




THE TIME OF MY LIFE (THE CLASSIC DIRTY DANCING MOVE)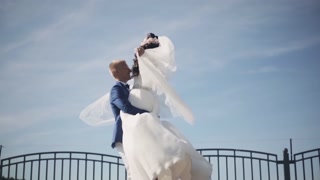 This timeless move is a great way to finish off your dance: groom picks up his bride and spins around just once holding her up whilst she spreads out her arms and tilts her head back. This really doesn't require amazing skill (although some arm muscle will come in very handy), but certainly blows guests away and never fails to induce loud cheering from guests!
PIMP IT WITH PROPS!
If your venue allows this, you can really give your first dance the extra WOW factor with with following props: Confetti explosions, Dry Ice for the 'dancing on a cloud' illusion, Indoor Pyrotechnics, or for a much more economical option, have your bridal party in a circle around you holding extra long sparklers while you dance
When you book any of Debbi Arpini's Bespoke Entertainment packages for your reception in Melbourne or Australia Wide, we can assist you to create the perfect memorable first dance. We are happy to accommodate a special request to play live for the occasion, or we are equally happy to play an MP3 of your song routine through our PA for optimum sound quality. We will work with you to create the most magical moment, and are also happy to recommend suppliers who provide Dance Lessons, Dry Ice, Confetti or Pyrotechnics.
Talk to us about how we can help make a statement with your first dance. We are all about ensuring the success of every aspect of your function and are more than happy to discuss ideas with you. After all, we've been doing this a long time and have seen it all... we are only too happy to share tips and ideas with you.